08 - Content - Split image
Careers at Shulman & Partners
Our firm has been around since 2005, and we've learned a lot about how to create a great work environment. Growth is an important key to our success, and we believe in growing together. That means our team always has access to mentors and leaders who can show them new ways to approach challenges and resolve issues. We aim to provide all necessary resources to encourage the growth of each team member.
We encourage continuous career development, value the importance of work life balance, offer comprehensive health benefits, performance bonuses, and much more.
08 - Content - Split image
Career Paths
We believe that the success of our firm is driven by the passion and dedication of our team members. That's why we're committed to providing a work environment that fosters growth, learning, and personal development. Whether you're looking to build your skills, take on new challenges, or advance your career, we are here to support your journey.
We invest in our team's professional development by providing funding for courses, conferences, and other opportunities to advance their skills and knowledge.
Whether you're an experienced lawyer, just starting your legal career, or are looking for a fulfilling experience in accounting, marketing, or administration, our firm offers many opportunities for growth and advancement. We provide a supportive and collaborative work environment that encourages our team members to reach their full potential.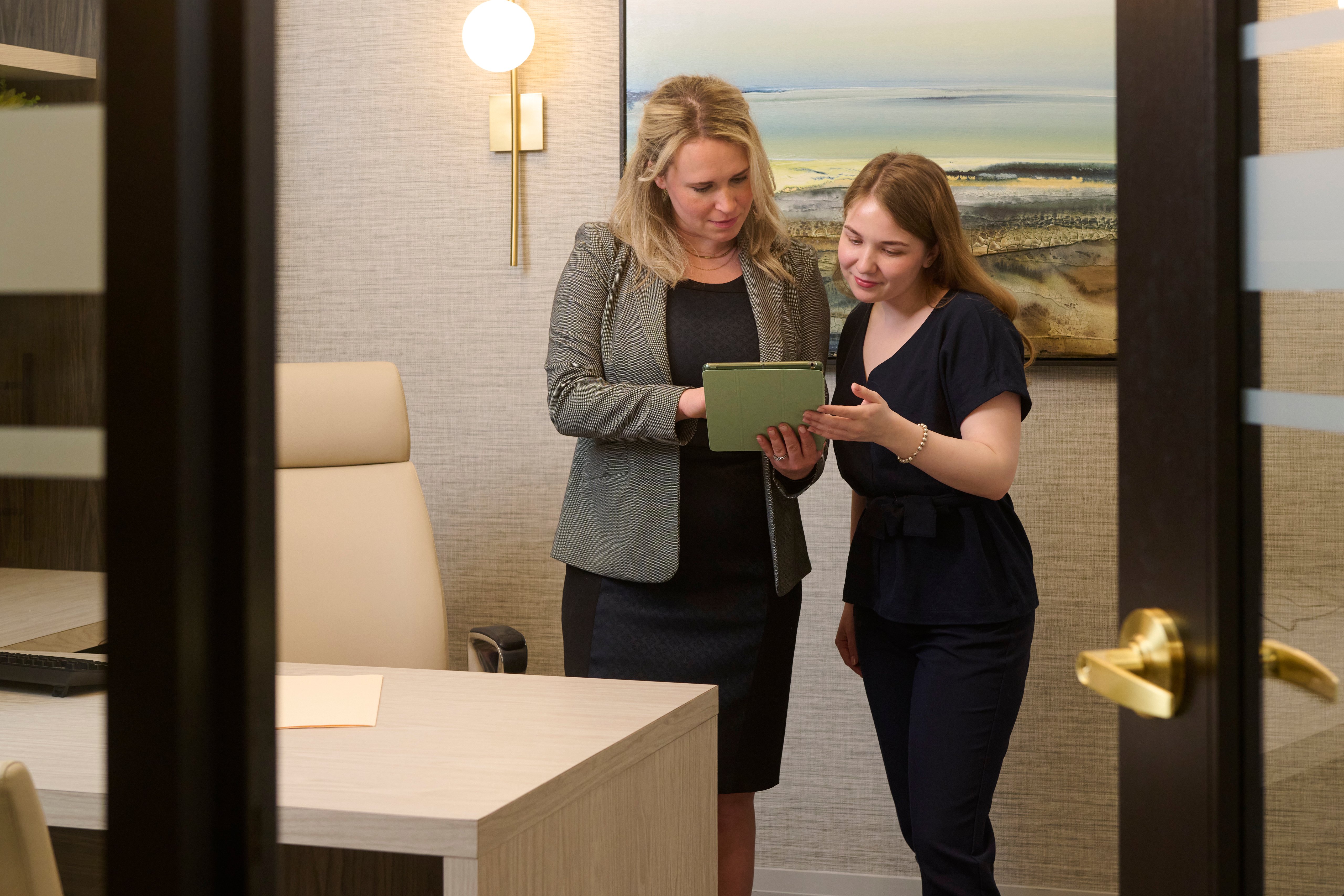 08 - Content - Split image
Compensation
We are dedicated to providing our team members with more than just a job - we're committed to providing a career that supports their financial and personal wellbeing. We offer a livable wage and competitive compensation packages that include great bonuses and incentives to recognize our team's hard work and dedication.
We understand the importance of physical and mental health in a field which takes a toll as we help clients through a very emotional journey. This is why we provide the highest health and mental health insurance to our team members.
In addition, we offer opportunities for growth and professional development, giving our team members the tools they need to advance their careers and achieve their goals. We believe that our team's success is our success, and we're committed to investing in their wellbeing and growth.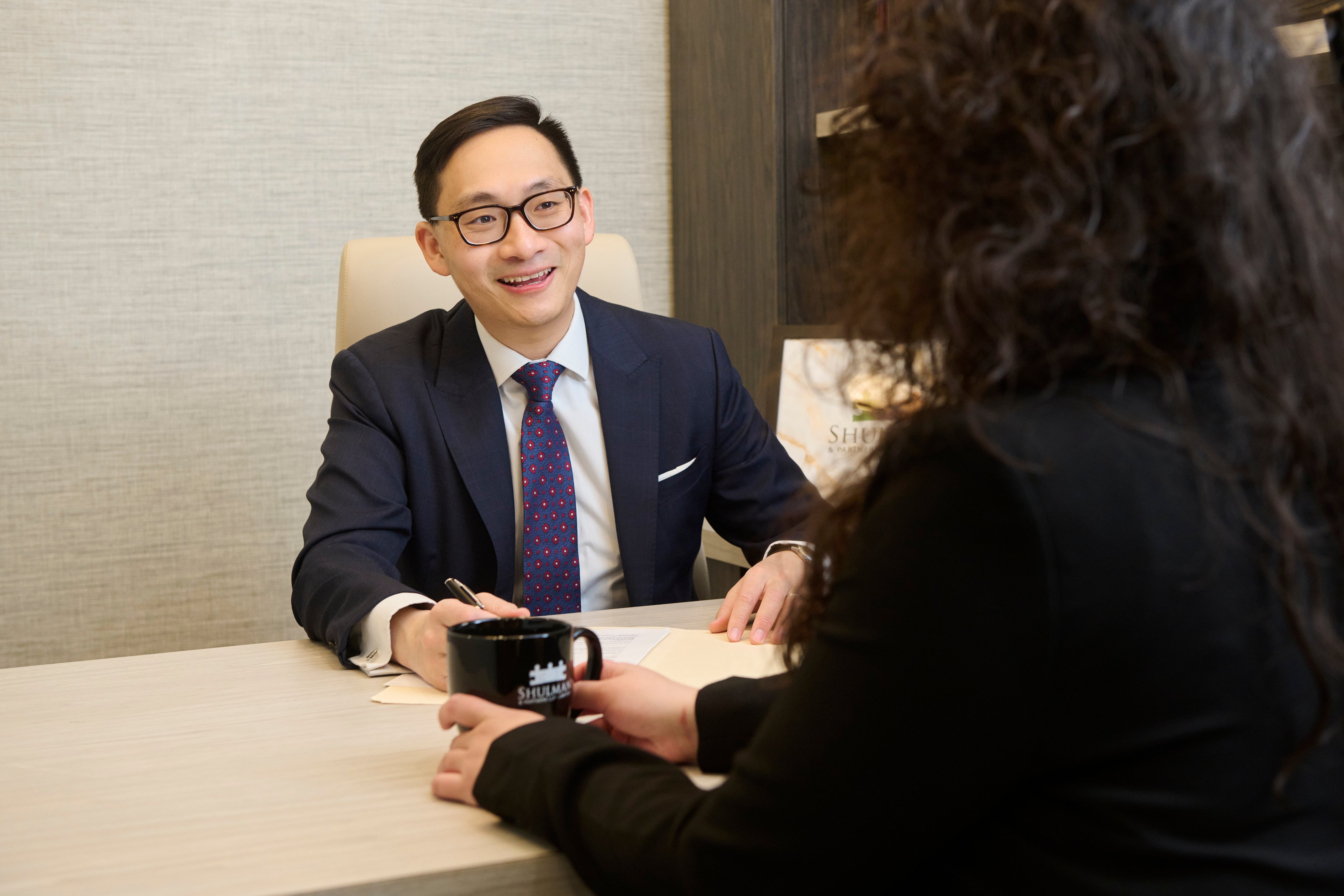 Benefits
We offer a comprehensive benefits package that provides our team members with the resources and support necessary to live and work to their fullest ability. From top health and mental health insurance to opportunities for professional development, we're committed to ensuring that our team members have everything they need to thrive both inside and outside of the office.
Health and Dental Insurance
At Shulman & Partners LLP, we believe in taking care of our team members' overall health and well-being. That's why we are proud to offer 100% coverage towards health and dental benefits, regardless of your position in the firm. Furthermore, to support our team members' mental health, we provide $1,000 per team member per year towards psychiatrists and mental health services. We are also introducing our brand-new health spending account, which will be accessible to team members after one year of continuous employment. The health spending account will allow team members to pay for eligible health-related products and services such as dental, drug, and paramedical services like chiropractic or massage therapy.
We are committed to ensuring that our team members have access to the resources and support they need to thrive both personally and professionally.
Mental Health Support
Calm App
Calm's diverse content library has resources to suit your schedule and needs, whether you have 30 seconds or 30 minutes. You can explore guided meditations and highly specialized music playlists for stress and focus, mindful movement video and audio, relaxing Sleep Stories, tailored content for children, expert-led masterclasses, and much more. In addition to your own personal premium Calm account, you can share Calm with up to 5 dependents.

Kii Health and Wellness
Our Kii Health and Wellness platform provides additional resources to support our team members' mental health. The platform offers counselling, which is a short-term support that can be accessed virtually, over the phone or in person, to help manage stress or any other mental health related issues. For long-term support, the platform offers Cognitive Behavioral Therapy (CBT) for issues related to ADHD, anger management, grief and loss, work stress, and more, where you can work directly with a dedicated therapist who will guide you throughout your journey and help you learn the skills you need to thrive. Each week will bring new lessons and exercises created by clinical experts, which you can access wherever and whenever it's most convenient for you. And you can send messages to your therapist whenever something is on your mind!
Goodlife Membership
Shulman
&
Partners
LLP
has secured a corporate membership with
Goodlife
Fitness
, one of
Canada
's largest fitness chains! This means that our entire team can now enjoy reduced rates on gym memberships and access to state-of-the-art fitness facilities across Canada. We believe that investing in the well-being of our team is crucial, and our partnership with Goodlife Fitness is a perfect way to promote healthier living.
As a corporate member, you'
ll have access to a wide range of fitness clubs, classes, equipment,
and
numerous benefits, including waived enrollment fees (which are regularly
$99
+
tax)
and
the option to
extend
the corporate rate to one family member.
Additionally
, you
'll have access to state-of-the-art cardio equipment, free weights and weight machines, world-renowned group fitness classes, professionally trained staff, and 24-hour locations on select clubs.
CPD-Continuing Professional Development
Shulman & Partners LLP boasts a team of exceptional expert family law practitioners whose reputation, experience, and success combined make them highly sought-after. These skills are exponentially advanced by way of our specialized professional development programs that our team completes on a regular basis. The professional development courses are specific to each team member's position. Our lawyers take part in a range of programs from persuasive drafting of court materials; courses for advanced negotiation skills; annual summits; and much more.
As part of our dedication to professional excellence we encourage all our staff to participate in professional development courses as they relate to their field. In fact, we are proud to announce that one of our law clerks recently obtained her ILCO Certified Expert in Family Law. All professional development courses are paid by the firm.
Our Values