Article written by Michaela Madden
Read a Book Day is celebrated on September 6th. In addition to picking up one of your favorite fiction books, the day also presents the perfect opportunity for recently divorced parents to read up on co-parenting tips and strategies. Divorce marks the start of a brand new stage in your life, and it can be especially difficult to go through when children are involved. Parenting and living situations are going to look much different, and reading the right books can offer valuable insights and guidance as you navigate this new and unfamiliar territory. It can also help you achieve a healthy co-parenting relationship, which is essential to the well-being of both you and your kids.
To celebrate Read a Book Day, check out these five essential co-parenting books:
For General Co-Parenting Guidance: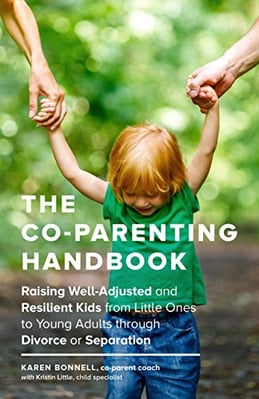 The Co-Parenting Handbook: Raising Well-Adjusted and Resilient Kids from Little Ones to Young Adults Through Divorce Or Separation
By: Karen Bonnell
If you're not sure where to start, this comprehensive guide will be your roadmap to co-parenting success, regardless of the age of your children. It covers practical strategies for communication, conflict resolution, and maintaining consistency in parenting across households. The book emphasizes the importance of prioritizing your children's well-being, and provides actionable advice on how to navigate challenges that occur during your co-parenting journey.
For Co-Parenting Communication Tips: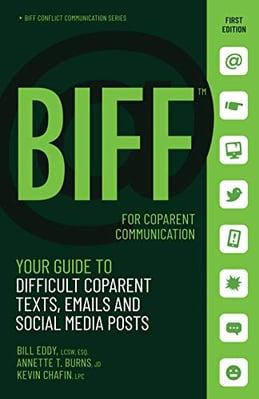 BIFF for Coparents: Your Guide to Difficult Texts, Emails and Social Media Posts
By: Billy Eddy, Annette T. Burns, and Kevin Chafin
Communication – or lack thereof – can cause many misunderstandings and conflicts in co-parenting relationships. This is especially true in the modern age of social media. "BIFF for Co-Parents" will serve as your toolkit for handling difficult conversations across a variety of mediums with poise and efficiency. The book outlines the BIFF method, which stands for Brief, Informative, Friendly, and Firm, and applies it specifically to common co-parenting communication situations. This includes difficult texts, emails, and social media interactions.
For Dealing with an Uncooperative Co-Parent: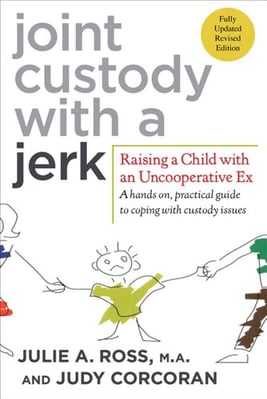 Joint Custody with a Jerk: Raising a Child with an Uncooperative Ex
By: Julie A. Ross and Judy Corcoran
Dealing with a difficult ex-partner can be incredibly frustrating. If you find yourself in a similar situation, then reading "Joint Custody with a Jerk" may be beneficial. The book walks you through strategies for co-parenting success when one of the parents is uncooperative, offering advice on setting boundaries, conflict resolution, and focusing on your child's well-being. Complete with practical tools and real-life examples, this book can help you minimize tension with your ex while prioritizing the needs of your children.
For Explaining Divorce to Young Children: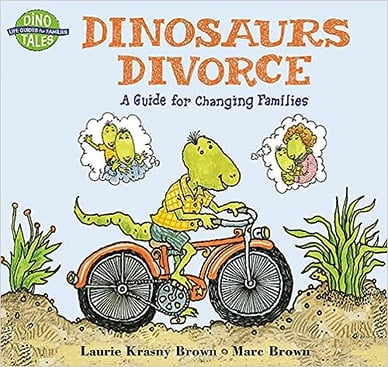 Dinosaurs Divorce: A Guide for Changing Families
By: Laurie Krasny Brown and Marc Brown
Young children may not fully grasp the concept of divorce when you try to explain it to them. As a new bedtime story, try reading them "Dinosaurs Divorce" to get the message across in an engaging way. The book uses colorful illustrations and relatable characters to explain divorce in a family-friendly manner.
For Telling Your Teens: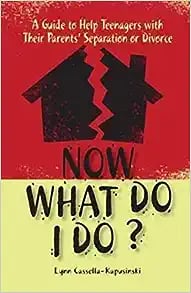 Now What Do I Do? A Guide to Help Teenagers with Their Parents' Separation Or Divorce
By: Lynn Cassella-Kapusinski
Although teens and young adults may understand what divorce is more than a young child, it doesn't make the experience any less difficult for them. This book acknowledges the unique challenges teens face and explains how to process their changing family dynamics. It also addresses their emotional needs and provides tools for effective communication between teens and their separated parents.
For More Co-Parenting Tips, Subscribe to Our Monthly Newsletter:
Looking for additional resources to help you navigate your divorce journey? You are not alone. Join our community by subscribing to our newsletter! Our new monthly newsletter launches September 15, and will feature helpful articles with tips including how to create a strong co-parenting environment for you and your kids. We are here for you!